Product and service reviews are conducted independently by our editorial team, but we sometimes make money when you click on links.
Learn more
MyFax Internet Fax Service Review
Last Update: November 10th, 2021
MyFax review highlights
Clean & simple approach
Send or receive fax from your email, computer, smartphone, or web browser
Great international fax number availability
Basic functionality: (4.4/5.0)
Extra features: (1.5/5.0)
Starting from: US$9.17/month to send 100 and receive 200 pages per month.


On this page
MyFax online fax service: top 3 pros
Simple, clean approach
We find MyFax's approach to be clean and minimalist. All of the necessary basic features are available right from the moment of setup. Users looking for a minimalist approach will find MyFax's no-nonsense approach to be straightforward.
Great international fax number availability
MyFax has truly global service. Fax numbers are available in 48 different countries including the United States, Canada, the United Kingdom, Australia, India, Japan, South Korea, France, Germany, Ireland, New Zealand, Singapore, the Philippines, Malaysia, Mexico, and more.
Lots of compatible file formats
MyFax's file format support is excellent. With over 170 compatible file formats, MyFax can save the time it takes to convert a document to a PDF. Linux users will enjoy the Open Document (often used with Open Office) formats. File formats are as far reaching as to include CAD, Lotus 123, Quattro Pro, Postscript files, and more.
MyFax service: top 3 cons
Could use more features
MyFax lacks in some of the advanced features available on the market such as signature stamps, custom cover pages, and file sharing integration. We like the minimalist approach. However, some power users may be looking for more features.
Web software looks and feels older (smartphone apps feel new)
MyFax's web software is very similar to eFax's (they have the same parent company, j2 Global, Inc.).
While the web application works well, it feels old. Some people may consider this a benefit (an approach of "if it's not broken, don't fix it" can be healthy for stable software). However, the system's interface could use a refresh.
The smartphone apps feel fresh and new, however.
You might not be able to port the assigned number away from the service
From our understanding of section 20 (Ownership) of MyFax's customer agreement, all assigned fax numbers can not be ported from the service as ownership is MyFax / j2 Global Inc.'s. An attempt to port away a fax number results in the return of the fax number and about a US$500 penalty.
According to the same section, numbers customers port into MyFax's service should be possible to port back out. To port a number in, the best option appears to be to sign up for the service, ensure you like it, then start a support ticket to port a fax number in (it can be any regular phone number).
What type of fax numbers are available with MyFax?
Local and toll-free numbers are available.
MyFax has excellent international service, with fax numbers available in 48 countries.
Users considering a toll-free number should also consider a second "local number" as toll-free numbers are often not available from outside the country.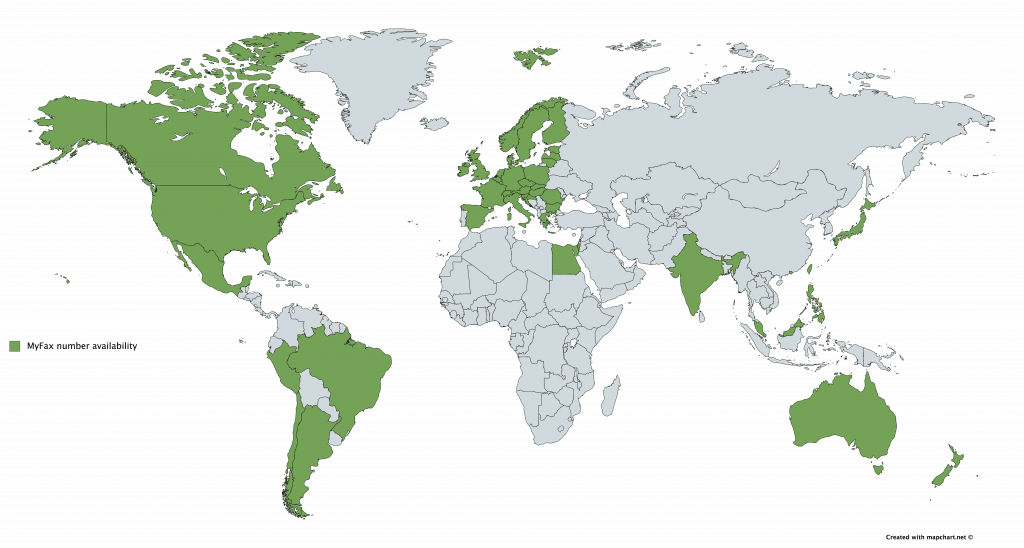 MyFax has many international numbers including Canada, the U.K., and Australia, as well as:
Americas:
Europe & Africa:
Asia & Pacific:
System requirements
An active internet connection is required to use MyFax's online fax service for all methods of faxing.  There is no traditional phone line required to fax with MyFax.
MyFax fax service can run from the web via any major browser.
There is no software to install for computers. Smartphone apps are available for iOS (iPhone, iPad, and iPod Touch) and Android.
Email to fax is compatible with any email client or service, including Outlook, Hotmail, Gmail, and Yahoo! Mail.
File format compatibility
MyFax is compatible with 60 different file formats (when counting the number of compatible file extensions)
Popular file formats PDF, TXT, RTF, and Microsoft Word and Excel are all compatible with MyFax.
File formats from Mac's iWork suite (Pages, Numbers, and Keynote) are not compatible (we're not aware of anything on the market that is compatible with iWork). These file formats can be saved as PDF or RTF format to fax.
Open Office file formats (ODT, ODS, ODP) are compatible with MyFax.
Is MyFax's service easy to use?
We find the email and smartphone versions of MyFax very simple to use.
The web software look & feel could use an update, however, sometimes an "if it's not broken don't fix it" approach is a good way to create stable software.
How does MyFax work: how to send a fax
MyFax can send faxes through an email, web browser, or smartphone app.
Step 1: Start a new fax
If faxing with email, open a new email message. Enter the fax number as an email address. For example, if faxing to the fax number 212-555-1234, put "[email protected]" in the email's "to" address. The subject line and body of the email will transfer over to the appropriate places on the cover page.
If faxing with the web application or smartphone app, select "send faxes." Add the fax number to the "to" field. There are also fields for "attention," "company," "subject," and "notes."
Step 2: Add attachments
If sending the fax with email, attach the files you want to fax to the email the same way you would a regular email.
If sending the fax with the web application, add the files in the "attachments" area.
If sending the fax with the smartphone app, you'll have to share the files to the MyFax app.
Step 3: Send the fax & wait for confirmation
If you are sending the fax with email, send the email. With the smartphone app or the web application, press send. The information will transfer to MyFax's servers, which will then dial the requested fax number.
When the fax sends successfully, you will receive an email with a confirmation page with the transmission time and details of the fax.
If the fax transmission is not complete, you will receive an email with information on the attempt to fax as well as the details of why the fax did not send (busy line, fax did not answer, etc.).
How does MyFax work: how to receive a fax
When you receive a fax to your MyFax fax number, it arrives as a PDF (or TIFF) attachment on an email.
The smartphone app and web interface can also be used to access the fax.
As the fax arrives as a PDF file, it can be printed, saved, edited, and then forwarded as an email attachment or fax back through MyFax's fax system.
How does MyFax work: Notable extra features
Reduce transmission speed & quality
MyFax has the option to reduce the transmission speed and quality of a document. This is a useful feature for a fax transmission that is having trouble connecting, as a reduction in speed and quality can help some transmissions go through properly.
How is MyFax for…
...Windows PC
Basic functionality (4.4/5)
Extra features (1.5/5) 
...MacOS
Basic functionality (4.4/5)
Extra features (1.5/5) 
...Linux
Basic functionality (4.4/5)
Extra features (1.5/5) 
...Smartphone users (iPhone and Android)
Basic functionality (4.4/5)
Extra features (1.5/5) 
Customer service
Customer service and technical support availability:
Customer support is available 24 hours a day, 7 days a week by phone or email.
Online resources:
MyFax includes online help videos, a knowledge base, and a FAQ for help with their product.
Better Business Bureau:
The BBB does not have a listing for MyFax – only for parent company J2 Global Inc. as J2 Cloud Services, LLC with a rating of "F" with 553 complaints filed.
j2 Cloud Services, LLC appears to be very responsive. Of the 553 complaints, 153 (28%) were resolved to the complainant's satisfaction, in 399 (72%) the consumer did not accept the response OR the BBB did not hear back from them, and 1 complaint (0%) was not responded to. The complaints can be categorized as: 8% advertising/sales, 57% billing/collection, 1% delivery issues, 35% product/service, and 0% guarantee/warranty.
It is likely that the j2 listing is not just for MyFax, as j2 Global has many brands, including eFax®, MyFax, MetroFax, PopFax, RapidFax, SFax, eVoice, PC Magazine, Geek.com, IGN, Speedtest by Ookla (Speedtest.net), Ziff Davis, and more.
The J2 Cloud services listing includes alternate names of "j2 Global®, j2 Global®, Inc, j2 Global® Communications, j2 Global® Communications, Inc, and eFax®." All listings are for the same address that eFax and eFax's parent company (j2 Global, Inc.) lists its headquarters in Hollywood, California.
"Review" sites:
Between 2014 and June 30, 2017, we have noticed 119 complaints or negative reviews for MyFax at the Ripoff Report (5), and Pissed Consumer (114).
Consumer Affairs does not have a listing for MyFax. When searching for MyFax, they return eFax (also owned by j2 Global, Inc.) as a result.
In our observation, billing issues, cancellation, and account renewals appear to be a common theme with complaints. Complaints about the operation of the product seem to be rare.
Pricing
The "best value" package, which we tested, is US$9.17 per month (when billed annually) to send 100 and receive 200 pages per month (for a total of 300 pages). Extra pages are US$0.10 per page.
Other packages allow for more pages per month in fax volume. All of MyFax's packages include the same features.
Pricing is available in US dollars (US$), Canadian dollars (CDN$), UK pounds (£), and Euros (€).
MyFax review – conclusion & recommendation
We like MyFax's system for its minimalist simplicity and international fax number availability.
Users looking for a minimalist look and feel will find that MyFax does a good job of all the basics, and a little bit more.
Mac and Linux users will be impressed that all features are available the same as the Windows offering. As all services are on the web, email, or a smartphone app, there is no feature loss from working with a non-Windows platform.
We like that MyFax's minimalist offerings help turn fax from a chore to a basic task.