Product and service reviews are conducted independently by our editorial team, but we sometimes make money when you click on links.
Learn more
Ringcentral Online Fax Service Review
Last Update: November 10th, 2021
RingCentral fax review highlights:
Lots of features
Send and receive a fax from email, the web, a desktop program, or a smartphone app
Integrate online fax with RingCentral's VoIP (online phone) suite (optional)
Rating:
Basic functionality: (4.2/5.0)
Extra features: (4.4/5.0)
Starting from US$17.99/month to send or receive a total of 1500 pages per month.
On this page
RingCentral's online fax service: top 3 pros
Lots of different ways to fax
Desktop software (for both PC and Mac), smartphone apps (for both iPhone and Android), a web application, and email can all be used to send a fax with RingCentral's service.
Full integration with a suite of VoIP phone services (optional)
RingCentral is best known as a VoIP (Voice over IP, or phone over the internet) phone provider.
For people using a larger suite of phone products (or planning to in the future) and want to combine their fax with a phone, RingCentral's software does a good job integrating their fax service with their VoIP offerings.
Administrative and enterprise features
RingCentral's administrative panel has features that will be enticing to enterprise level clients. RingCentral can add and remove users and fax lines from a centralized administrative menu.
RingCentral's fax service: top 3 cons
International number availability
At the moment, RingCentral only offers fax number in the United States, Canada, and the United Kingdom. Fax numbers in other countries are not available or are only available as a feature in a fully-featured phone suite.
Different methods of faxing can feel disjointed
There feels like there is a bit of a feature gap between the various ways of sending a fax. Here are some examples:
A field for "company name" is in the desktop software, but not on the smartphone or web apps. It can be added, but only by adding a contact to RingCentral and then adding that contact to the fax.
Fax scheduling is possible with the web and desktop versions of RingCentral. However, it is not available on the smartphone app.
Only the desktop app can create and use a custom cover page. When sending from the web, a smartphone app, or email, only RingCentral's default cover pages are available.
We would like to see all features available to all methods of sending, especially custom cover pages.
What type of fax numbers does RingCentral offer?
RingCentral offers local, toll-free, and vanity fax numbers.
Users considering a toll-free number should also consider a second "local number" as toll-free numbers are often not available from outside the country.
Numbers are available in the United States, Canada, and the United Kingdom.
System requirements
An active internet connection is required to use RingCentral's online fax service for all methods of faxing.  There is no traditional phone line required to fax with RingCentral.
RingCentral's fax service can run from the web via any major browser.
The desktop software requires either Windows of MacOS to run, and the smartphone apps are for iOS (iPhone, iPad, and iPod Touch) and Android.
Email to fax is compatible with any email client or service, including Outlook, Hotmail, Gmail, and Yahoo! Mail.
File format compatibility
RingCentral's fax service is compatible with 45 different file formats (when counting the number of compatible file extensions).
Popular file formats PDF, TXT, RTF, and Microsoft Office formats (Word, Excel, and PowerPoint) are compatible with RingCentral's fax system.
File formats from Mac's iWork suite (Pages, Numbers, and Keynote) are not compatible (we're not aware of anything on the market that is compatible with iWork). These file formats can be saved as PDF or RTF format to fax.
Open Office file formats (ODT, ODS, ODP) are not compatible with RingCentral. Open Office files can be saved as PDF or a Microsoft file format to become compatible with RingCentral.
Is RingCentral's online fax service easy to use?
We find most of the functions simple to use.
From the moment the service is set up, faxes can send from the designated email address with little configuration.
Most of the functions are straightforward and simple to understand for sending the first few faxes.
We find two small challenges with RingCentral's fax system: First, the software appears to be designed for VoIP phone users, with fax as an added feature. Fax-only users may find that fax features get "lost" in all the other menus with disabled phone functions.
Second, the different methods of sending a fax (email, web, desktop, and smartphone app) have different features that may not be available. For example, scheduling is available for the web and desktop faxes, but not the smartphone app, and custom cover pages are only available with the desktop app, but not the web or smartphone app.
How does RingCentral's online fax service work: How to send a fax
RingCentral can send faxes through your web browser, email, desktop or smartphone.
Step 1 – Start a new fax
To send a fax by email, open a new email. Address the email to the fax number @ rcsend.com. For example, if the fax number is (212) 555-5555, then put [email protected] in the "to" box of the email. The subject line will become the subject line of the cover page.
If sending a fax from the desktop software, smartphone app, or web browser, click on "new fax." Put the destination fax number in the "to" box. There are fields in each application for information for the cover page.
Step 2 – Attach documents you want to fax
Attach any documents you want to send in the fax.
The file formats have to be compatible with RingCentral's available file formats. Files such as PDF, Microsoft Word (DOC), TXT, and RTF as well as other formats are compatible with RingCentral.
If faxing with the smartphone app, you can access files stored in Dropbox, Google Drive, or Box.
Step 3 – Press send & wait for confirmation
Pressing send will upload the fax to RingCentral's server and allow the service to send the fax.
You will receive an email notice if the fax is sent (or if it fails to send).
How does RingCentral work: How to receive a fax
When you receive a fax to your RingCentral fax number, RingCentral will email you a notice with a link to log into your RingCentral account.
You can access received faxes through the web interface, desktop software, or smartphone app.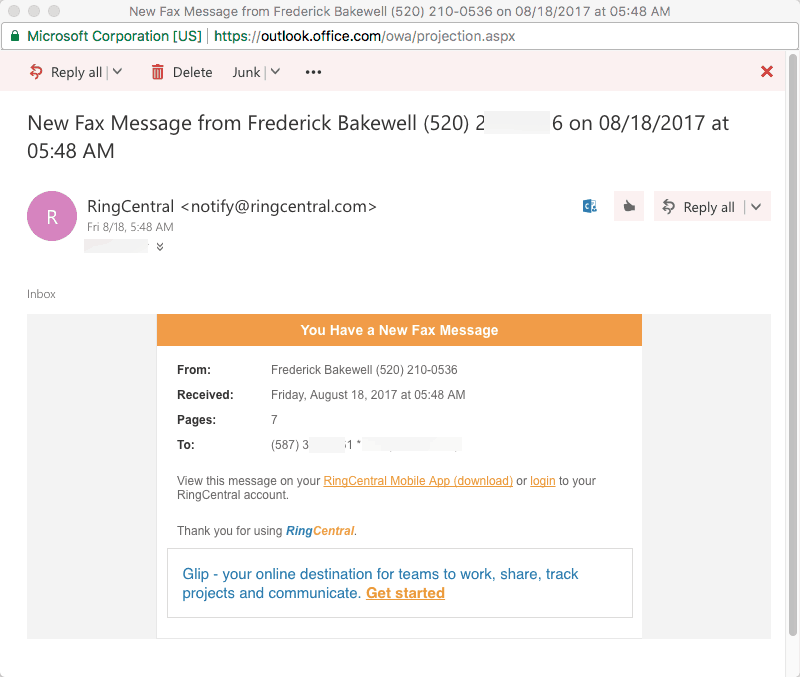 Once the fax is received, it can be used the same as any regular PDF file. It can be printed, saved, edited, and then forwarded as an email attachment or fax back through RingCentral's fax system.
One item to note is that received faxes and voicemails are mixed together. Some people prefer having all communication in one place, and others don't.
How does RingCentral work: Notable extra features
We consider RingCentral to be "feature rich." Here is a sample of some (but not all) of the features that RingCentral offers with its faxing platform.
Broadcast to regular groups
RingCentral has the feature to do a fax broadcast to a large group of users. Groups of more than 50 fax numbers can send as multiple transmissions, or RingCentral has the option to broadcast to larger groups (with some advanced forms filled out).
HIPAA support
HIPAA support is useful to legal and medical offices or anyone who needs to qualify for an information privacy standard. With HIPAA enabled, incoming faxes to not arrive as an email attachment. Rather, the email has a link to the document stored on RingCentral's servers, and the user needs to log in to access it. As well, archived faxes are deleted from RingCentral's servers much sooner than the regular setting.
Edit Fax Cover Pages
RingCentral lets you edit the cover pages you have in the system. While RingCentral comes with quite a few default cover pages, these can all be modified and adjusted (or new pages created from scratch) to match any look that your business wants to provide.
Custom cover pages are only available when faxing from the RingCentral desktop program. Faxes sent from email, the web application, or the smartphone app will have to use one of RingCentral's default cover pages.
Block Junk Fax Numbers
We've all received spam over our fax machine – notices we've won trips, contests, or advertisements for local seminars. With a regular fax machine, these are almost impossible to stop.
RingCentral has a feature to block fax numbers that may be harassing you with junk faxes – enter the number to block, and RingCentral's service will prevent further transmissions from that fax number.
Import Outlook's address book
Outlook's address book can import into RingCentral's system. It's an extra that helps keep track of all your data.
Dropbox, Google Drive, Box, and Microsoft Office Integration
As users move their documents and activities to online and cloud based systems, RingCentral has built integration into Dropbox, Google Drive, and Box to be able to send any information to them directly through to a fax number. For Microsoft Office users on Windows, RingCentral offers a plugin to access faxes and voicemails from Outlook.
How is RingCentral for…
...Windows PC
Basic functionality (4.2/5)
Extra features (4.1/5)
…MacOS
Basic functionality (4.2/5)
Extra features (4.1/5)
…Linux
Basic functionality (4.0/5)
Extra features (4.1/5)
…Smartphone (iPhone and Android)
Basic functionality (4.2/5)
Extra features (4.1/5)
Customer service
Customer service and technical support availability: 
Customer service resources are available 24 hours a day, seven days a week.
All other (including fax bundled with a phone line) include phone support.
Online resources: 
Technical support includes an online help forum, FAQ, and ticketing system.
Better Business Bureau:
At the time of writing this review, RingCentral is an accredited member of the BBB with a rating of A+ and 213 complaints filed.
RingCentral appears to be very responsive. Of the 213 complaints filed, 72 (34%) were resolved to the complainant's satisfaction, and in 141 (66%) the consumer did not accept the response OR the BBB did not hear back from them. Complaints are categorized as 23% Advertising / Sales issues, 23% billing issues, 8% delivery issues,  4% guarantee/warranty issues, and 42% a problem with the Product or Service.
As RingCentral offers a number of products including online fax, VoIP, conference calling, and more, we cannot tell which products these complaints originate from.
"Review" sites:
Between 2014 and June 30, 2017, we have noticed 123 complaints or negative reviews for RingCentral at the Ripoff Report (17), Consumer Affairs (25), and Pissed Consumer (81).
Complaints are mixed. However, cancellation and reception issues appear to be more common.
Pricing
"Fax 1500" begins at $17.99 (when billed annually) for 1500 pages sent or received per month, with extra pages 5.9¢/page.
All packages (as well as fax when it is included with phone) include phone support.
Other packages increase in the number of faxes that can be sent and received per month and reduce the per-page cost for volume over the monthly allocation.
With all plans, extra fax numbers are US$4.99/month. Additional toll-free or vanity numbers are a one time cost of US$30.
RingCentral fax review – conclusion & recommendation
RingCentral offers a lot of features for everyone from home office to enterprise users. There is room to grow in both page volume and integration with a full VoIP phone service.
The system is easy enough to use, despite a few quirks that come from offering so many different ways to fax.
Compatability with Mac is very good, with only a few features available on Windows missing. We think that Linux users should closely trial the system before committing to the service, as some features may not be available.
RingCentral offers a good starting point that can later scale up to a larger enterprise-level service.