Product and service reviews are conducted independently by our editorial team, but we sometimes make money when you click on links.
Learn more
Nextiva Online Fax Service Review
Last Update: November 10th, 2021
Nextiva fax review highlights:
Clean & simple approach
Send and receive a fax from email or the internet
Integrate fax with Nextiva's VoIP phone plans (optional)
Connect a regular fax machine to Nextiva's online fax service (optional)
Basic functionality (3.9/5.0)
Extra features (1.4/5.0)
Starting from: US$4.95/month to send or receive 500 pages per month.
On this page
Nextiva's fax service: top 3 pros
Simple, clean interface
Nextiva brings a clean minimalist interface. Everything needed to fax is right in front of you, without extra features to slow up sending your fax. The process of sending a fax is so simple it almost feels like something is missing (it isn't).
The extra fields for the cover page are a pleasant surprise
There are charge code and tracking key fields for the cover page. These fields are a helpful extra for corporate environments that want to keep track of their fax communication.
Package fax with VoIP phone services (optional)
Nextiva offers a full range of VoIP phone services from VoIP phone for home and home office users all the way up to call center facilities. Most of their VoIP phone packages include fax capability.
Nextiva's fax service: top 3 cons
Could use more features
Nextiva is the most minimalist of the fax services we've reviewed. What it does it does well, however, some users may be wanting more features.
Limited international service – no calls to international locations (except Canada, U.S. Territories, and some Caribbean regions) and no fax numbers outside the U.S.
Nextiva's fax service can receive inbound faxes from any country, but won't outbound fax to a number outside of the U.S.. It can, however, fax to Canada, U.S. Territories (Puerto Rico, U.S. Virgin Islands, Northern Mariana Islands, Guam, and American Samoa), and Caribbean regions that share in the North American Numbering Plan (Anguilla, Antigua and Barbuda, Bahamas, Barbados, Bermuda, British Virgin Islands, Cayman Islands, Dominica, Dominican Republic, Grenada, Jamaica, Montserrat, Saint Kitts and Nevis, Saint Lucia, Saint Vincent and the Grenadines, Sint Maarten (only the Dutch side of the island, not the French side), Trinidad and Tobago, and the Turks and Caicos). For users who need to send a fax to an international destination, Nextiva might not be the right choice.
All fax numbers are U.S. local numbers. There are no toll-free or vanity fax numbers available. A quick note on toll-free numbers: many of them are not able to accept an inbound international call. If considering a toll-free fax number and expecting international faxes, consider a second local fax number for international users.
Nextiva does not offer fax numbers outside of the U.S.
Flash needs to be enabled
Nextiva requires flash to be enabled. Some browsers automatically have flash disabled. However, Nextiva provides simple instructions on how to turn it on for only their fax service in Chrome, Internet Explorer, and Safari.
Many smartphones (including the iPhone) will not run Flash. Smartphone users without Flash are not able to adjust administrative features from their phone. Smartphones work very well on their own to send and receive a fax with an email, however.
Adobe (the makers of Flash) are ending support in 2020. We feel that Nextiva will have an alternate platform in place well before then.
What type of fax numbers does Nextiva have available?
Nextiva only has local fax numbers for the United States.
There are no toll-free or vanity numbers. Lack of a toll-free number is not a complete loss, however, as toll-free numbers are not reachable from outside the country.
System requirements
An active internet connection is required to use Nextiva's online fax service for all methods of faxing.  There is no traditional phone line required to fax with Nextiva.
Nextiva's fax service can run from the web via any major browser. Adobe Flash needs to be enabled (or Nextiva's website whitelisted to run Flash) to access the administrative panel. Nextiva provides simple instructions on how to turn it on for only their fax service in Chrome, Internet Explorer, and Safari, but instructions for Firefox are missing.
Nextiva does not offer any desktop software or smartphone applications.
Email to fax is compatible with any email client or service, including Outlook, Hotmail, Gmail, and Yahoo! Mail. Adobe Flash is not required for the fax to email portion of the service.
File format compatibility
Nextiva's fax service is compatible with 19 different file formats (when counting the number of compatible file extensions).
Popular file formats PDF, TXT, RTF, and Microsoft Word and Excel are all compatible with Nextiva's fax system.
File formats from Mac's iWork suite (Pages, Numbers, and Keynote) are not compatible (we're not aware of anything on the market that is compatible with iWork). These file formats can be saved as PDF or RTF format to fax.
Open Office file formats (ODT, ODS, ODP) are not compatible with Nextiva. Open Office files can be saved as PDF or a Microsoft file format to become compatible with Nextiva.
Is Nextiva's fax service easy to use?
We find it simple to use. It feels very clean and minimalist.
Both the web application and email fax work well.
We've found that Nextiva's approach helps answer the question of whether a smartphone application and desktop software are really necessary for this industry. While Nextiva's fax system doesn't have extra software, everything it does through the web is everything that most people will need it to do.
The only people we see having complications with Nextiva's online fax service are smartphone users who want to change administrative settings. As Nextiva's web application runs on Adobe Flash (which doesn't work on smartphones such as the iPhone), smartphone users won't be able to change administrative settings or see archived faxes (except those saved on email) from their phones.
How does Nextiva's online fax service work: How to send a fax
Nextiva can send faxes through an email or web browser
Step 1 – Start a new fax
If faxing with email, open a new email message. Address the "to" field of the email to the fax number @ nextivafax.com. For example, if faxing to (212) 555-1234, address the email to [email protected]. The subject line and body of the email are transferred over to the subject line and body of the cover page of the fax.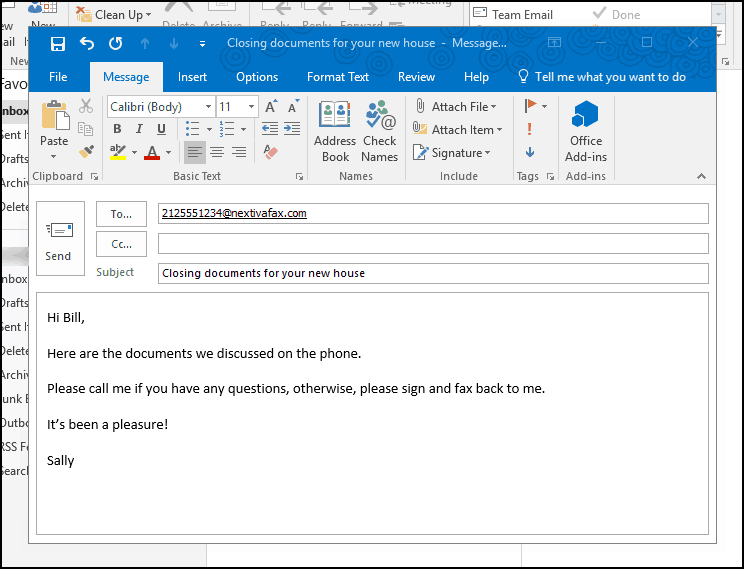 If faxing with the web application, log in to the Nextiva's fax server page and select "send fax." Insert the fax number, deliver to, and other data in the available fields. Only the fax number is necessary. There is only room for one fax number here (further in the fax send process there will be room for five more faxes or emails address that can receive your message as a cc, and when the fax sends there is the option to return to the starting menu with the same fields). There is the option to set a date (but not time) in the future to send the fax.
Step 2 – Attach documents
If faxing with email, attach documents to the email the same way you would attach files to a regular email.
If faxing with the web application, press "next," then click "browse" to select the file to attach.
File formats such as PDF, TXT, RTF, and Microsoft's Word (DOC) are available.
Step 3 – Send the fax & wait for confirmation
If sending the fax with email, send the email as usual.
If sending the fax with the web application, press "Next" to preview the final fax, then "next" again to move to the send screen. The transmission can include more fax numbers for cc'ing the message.
Finally, press "send" to have Nextiva send the fax. This will upload the information to Nextiva's servers where the fax number will be dialed.
You will receive an email notice if the fax is sent (or if it fails to send).
How does Nextiva fax work: How to receive a fax
Nextiva sends your faxes to you as an email with a PDF attachment.
You can also retrieve your faxes through the web interface.
A received fax can be treated the same as any regular PDF file. It can be printed, saved, edited, and then forwarded as an email attachment or fax back through Nextiva's fax system.
How does Nextiva fax work: Notable extra features
Fax machine support (fax bridge)
A traditional fax machine can use Nextiva's fax service with Nextiva's fax bridge. With the connected fax machine, faxes can be sent and received the same way as a traditional fax machine but using Nextiva's infrastructure and rates.
For an office with employees that like the workflow of a traditional fax machine, this is a good option to maintain a traditional workflow. The fax bridge retails for around US$150.
How is Nextiva for…
… Windows PC
Basic functionality (4.2/5)
Extra features (1.6/5)
… MacOS users
Basic functionality (4.2/5)
Extra features (1.6/5)
… Linux users
Basic functionality (4.2/5)
Extra features (1.6/5)
…Smartphone (iPhone and Android)
Basic functionality (3.4/5)
Extra features (1.6/5)
Customer Service
Customer service and technical support availability:
Customer support is available Monday to Friday 5 am – 6 pm, and Saturday 9 am to 1 pm Arizona time (Pacific time in the summer, Mountain time in the winter). Support is available by phone, email, or chat.
All of Nextiva's online fax plans include support.
Online resources:
Technical support includes how to videos, system status, a ticketing system, and a FAQ/knowledgebase.
Better Business Bureau:
Nextiva is an accredited member of the BBB with a rating of A+.
Nextiva appears to be very responsive. Of the 29 complaints filed, 20 (69%) were resolved to the complainant's satisfaction, and in 9 (31%) of them, the consumer did not accept the response OR the BBB did not hear back from them. Complaints can be categorized as 19% advertising/sales, 23% billing, 13% delivery,  6% guarantee/warranty, and 39% product or service.
"Review" sites:
Between 2014 and June 30, 2017, we have noticed 4 complaints or negative reviews for Nextiva at the Ripoff Report (4),  Consumer Affairs (0), and Pissed Consumer (0).
We do not see a common theme with complaints.
Pricing
The "Single User" package (the one we reviewed) starts at US$4.95/month (when billed annually) for a total of 500 pages sent or received. Extra pages are $0.03/page.
Nextiva offers 3 packages. All of them include the same features and service. The only difference is the volume of faxes sent and received.
Nextiva fax review – conclusion & recommendation
There are a lot of reasons to like Nextiva. It proves that extra features and software and apps aren't needed to provide a strong faxing experience, even at an entry level price. It provides a simple interface with everything that's needed, and a few extras that are hard to find elsewhere.
Mac and Linux users will find that Nextiva's minimalist approach is a benefit – all features available to Windows users are available to other platforms. Smartphone users, however, will find some disappointment on having to change basic features on a regular computer due to Nextiva's use of Adobe Flash in the administrative panel.
Nextiva's fax service works with minimal interruption and turns faxing from a chore to a basic task.